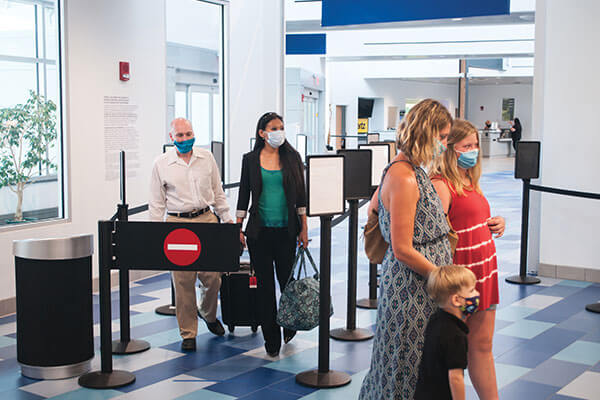 Security / TSA Info
COVID Safety
Real ID
Security / TSA Info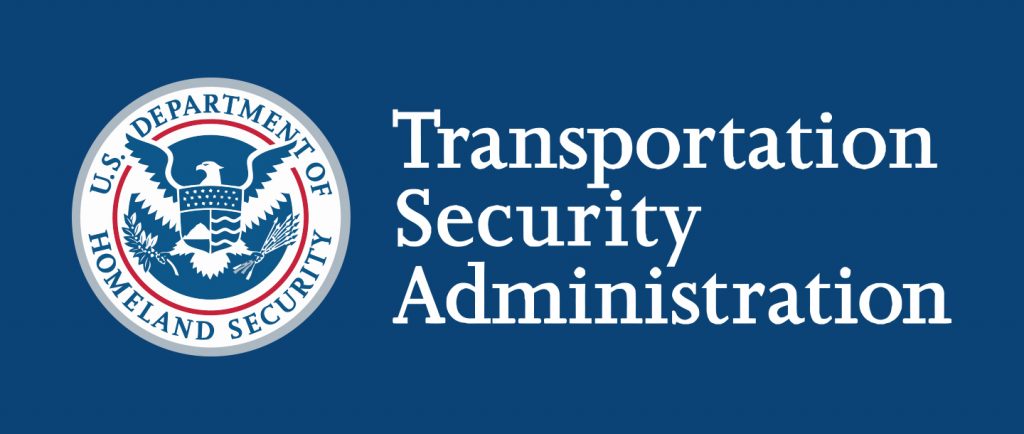 The Transportation Security Administration (TSA) provides the highest level of security and customer service to all who pass through the screening checkpoints at the Williamsport Regional Airport. Please click 
HERE
 or the TSA logo for the latest detailed travel information. The local phone number for the Williamsport Regional Airport TSA office is (570) 368-1123. As a reminder, please allow extra time for check in due to TSA procedures.
TSA Raising Passenger Baseline Security Measures – 29 Sep 17
COVID Safety
COVID Safety – Your COVID-19 Questions Answered
Since March, data suggests that one in five infected persons requires hospitalization. Those odds aren't good enough for most to continue vacationing any time soon. The CDC states that "staying home is the best way to protect yourself and others from getting sick." Obviously, you're least at risk inside your own home, but how dangerous is flying right now? Check out our frequently asked questions below concerning COVID safety.
What states have reopened?
Regulations vary with each state. Since every state on its own reopening schedule, with different rules and regulations, it's important to keep up to date with local guidelines prior to traveling. Below is a quick look at where things stand in each state.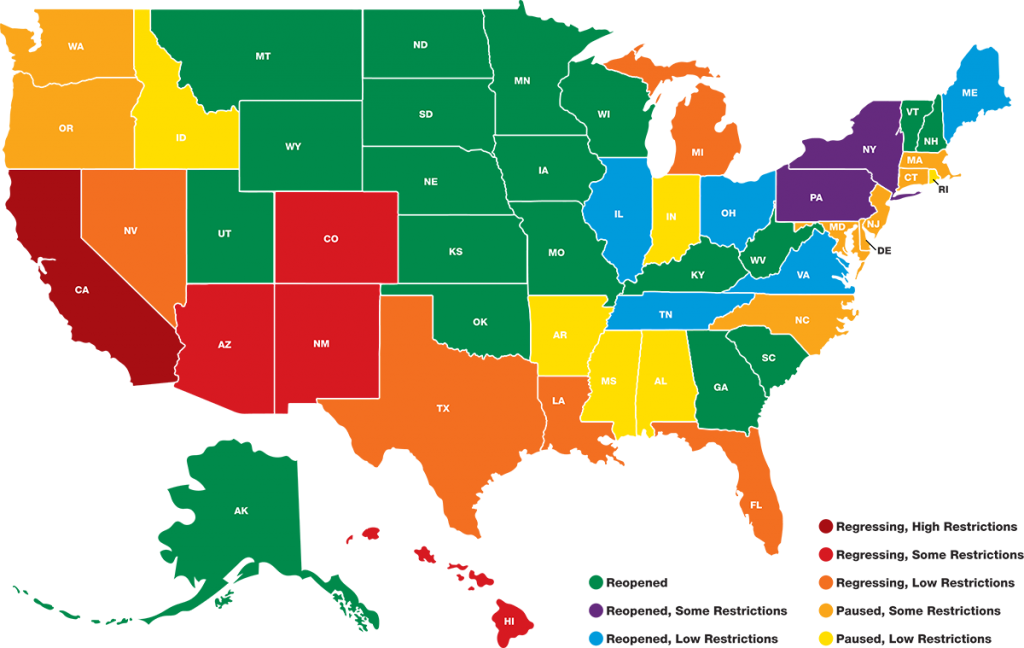 What does international travel look like?
There are a few destinations that Americans can travel to, such as Antigua, Turkey, St. Lucia, Jamaica, the Maldives and more have opened or are beginning to open to tourists. Below are a handful of the most common destinations for US Travelers:
Canada – Restricting all non-essential travel from the US, indefinitely
Mexico – Non-essential travel restricted along the US-Mexico land border through July 21, 2020 (at the earliest). Passengers and aircrew members arriving at Mexican airports may be subject to health screenings including temperature checks. Those exhibiting symptoms may be subject to additional health screening and/or quarantine.
U.K. – Department of State Level 4 advisory to avoid travel
Italy – Allowed only for proven work, urgent health needs, or to return to your place of residence, indefinitely. Those travelers continue to be required to self-isolate for 14 days.
Japan – US Travelers banned indefinitely from entering Japan, unless there are exceptional circumstances. 14-day quarantine mandatory if you've stayed in these countries.
What are airports like?
Each airport has varying rules and regulations to help combat the spread of coronavirus. Depending on your location, you can expect numerous hand sanitizer locations, UV lights directed at self-service kiosks, and a cornucopia of face masks. Be sure to bring a mask, even if your particular flight won't require it – most airports will require masks to get through the door or to enter the terminal.
Are people traveling?
CNBC reports more than 661,000 passengers per day were processed in the US during the first give days of July. While air travel is still 72% below 2019 statistics, airport traffic during those days was 90% higher than the same time in June 2020. Regardless that it was a holiday travel weekend, the takeaway is that people are becoming less concerned about travel and instead practicing preventative measures while slowly returning to normal.
What about the large crowds at airports?
If you're concerned about massive crowds at the airports, you've still got very little to worry about. You're most likely to avoid them at smaller, non-hub airports like here at Williamsport Regional Airport.
What can I expect going through TSA?
Numerous TSA press releases outline proper behavior in the security checkpoint line. Here is a list of things you need to know:
TSA officers will wear gloves and masks, and change gloves after each pat-down. They will use a fresh swap for each passenger when probing for explosives.
Passengers should wear facial protection and practice social distancing in the checkpoint line
Passengers may be asked to remove their mask to verify ID (or if the mask trips an alarm for some reason)
Scan your own boarding pass (don't hand it to the TSA officer), then display it to TSA for visual inspection
If your bag triggers an alarm, you may be directed out of line to dispose of/separate culprit items and return through the line (eliminating a TSA officer's search of your bags)
Are lounges safer to social distance than the main area?
As a reminder, the recommended social distancing practice is a minimum of six feet from others. Lounge areas are a great way to social distance from others with fewer screaming kids and generally quite easy to find. However, during these new times, most larger airport lounges remain closed. Williamsport Regional Airport's lounge does remain open along with the Simply Savor on the Fly Café for you to grab a quick beverage or snack.
What are doctors saying?
It might seem like subjecting yourself to confined areas with passengers from all over the country isn't smart, but doctors are finding that it may be less risky than first anticipated. Circulation of cabin air is less of a concern due to High-Efficiency Particulate Air (HEPA) filters, which are on nearly every major flying aircraft today. HEPA filters are similar to those used in hospital rooms and filter out more than 99% of airborne microbes, refreshing cabin air every 2-3 minutes.
Via
Travel and Leisure
, two authors in the medical field further expound on the risks of flying: "Dr. Winfried Just, a researcher in mathematical epidemiology and professor at Ohio University, and Dr. Georgine Nanos, a board-certified physician specializing in epidemiology, both agreed that the prolonged exposure of a long-haul flight could be riskier, but only because it leaves the door open that much longer for potential exposures. Longer flights mean more people using the bathrooms, more instances of masks being removed (even if just temporarily for eating and drinking), more exposure to anyone nearby who might be shedding the virus, and so on. Since flight times for both domestic and international flights can be anywhere between one hour and double-digits, it's safer to choose destinations with shorter overall flight times. That being said, when it comes to flying during a pandemic, safety is measured on a sliding scale. Dr. Just cautions that "safe is never 100 percent safe," since it is impossible to completely eliminate risk."
What is the CDC saying?
The CDC's advisory on air travel specifically states: "Air travel requires spending time in security lines and airport terminals, which can bring you in close contact with other people and frequently touched surfaces. Most viruses and other germs do not spread easily on flights because of how air circulates and is filtered on airplanes. However, social distancing is difficult on crowded flights, and you may have to sit near others (within 6 feet), sometimes for hours. This may increase your risk for exposure to the virus that causes COVID-19."
What precautions are American Airlines taking?
In addition to spending hours sanitizing each aircraft at night, they thoroughly clean between flights, utilize hospital-grade disinfectants and employ HEPA air filters. Travelers are asked at check-in to confirm they have been free of COVID-19 symptoms for the past 14 days. Face coverings (mask or any secured cloth covering your nose and mouth) are required while flying, except when eating or drinking. Very young children or those a condition preventing them from wearing one are exempt.
Do I have to wear a mask?
For most major airlines, face masks are mandatory when flying. Also, it's likely you'll need to wear masks at the airport. Some flight attendants may not enforce masks inflight, but know that it's in the rules inked by these airlines. American Airlines has a similar policy, stating it may "deny future travel" for those refusing to wear face coverings. In other words, you can effectively become banned from flying American Airlines.
Can you social distance on an airplane?
Airlines are doing their best to help you physically distance. Most are blocking out middle seats from purchase, to ensure you're not sitting next to anyone (you can still request to sit with family members). Other airlines are doing their best to fill every seat and minimize the hit from COVID-19.
Are airlines serving meals?
Most airlines now have pre-packaged foods and disposable flatware. Some airlines actually encourage you to bring your own food for the flights.
TSA suggests the following for travelers bringing their own food: Put any carry-on food in a separate clear plastic bag or container. Food can cause an alarm during X-Ray Screening. If your food is in its own bin, the tSA officers shouldn't have a reason to rifle through your carry-on.
What if my flight gets cancelled now?
Most of the time, if airlines cancel your flight, you should receive full cash reimbursement. If YOU change or cancel your flight, you usually cannot do so for a cash refund. Instead, you'll receive a travel credit with an expiration date (usually a year or so out) for use on a future flight. If your new flight costs more, you will be responsible for the difference. Booking flights with a travel credit card that provides travel insurance serves as a precautionary measure in case anything doesn't go as planned. Which this year, would be a wise choice.
How can I help prevent the spread of COVID after I land?
Leave the airport touching as little as possible. You can also use services like Lugless to ship your luggage before you arrive. This will keep you from hanging out at the baggage claim, attendants touching your baggage, dragging your baggage through the airport, or touching overhead compartments. Also consider renting a car as opposed to an Uber, as rental cars are thoroughly cleaned after each rental and Ubers are picking up dozens of passengers per day.
Additional Tips For Flying
TSA is allowing you to place in your carry-on bag, one container of hand sanitizer, up to 12 ounces (standard rule is 3.4 ounces for liquids and gels). Just remove it from your bag and place it in its own bin when going through security.
Choose a window seat when you can — it's farther from the aisle with flight attendants and when passengers need to use the restroom.
Arrive at your gate earlier than usual. Most airlines will take your temperature and NOT allow you to board if they think you have a fever. However, if it's exceptionally hot out or you have been sprinting to get to your gate, these things can cause a rise in temperature, in which case you will not be allowed to board. Arriving early allows your true temperature to show.
Bring an empty reusable water bottle through airport security and fill it up in the terminal. This limits the transactions at the terminal and also beverages service by flight attendants.
The CDC says basic sanitary measures are some of the most effective ways to stay safe (and prevent spread) of COVID-19 when traveling. Make sure to:

Clean your hands for at least 20 seconds with soap and water (or hand sanitizer) often.
touching your eyes, nose, mouth, and face.
Cough and sneeze into the crease of your elbow (not in your hands).
Real ID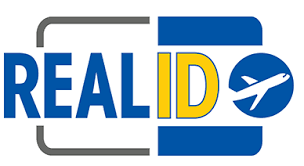 REAL ID is a federal law that affects how states issue driver's licenses and ID cards if they are going to be acceptable for federal purposes, such as boarding a domestic commercial flight, or entering a military installation or federal facility that requires ID. Beginning October 1, 2021, Pennsylvanians will need a REAL ID-compliant Driver's License, Photo ID Card, or another form of federally-acceptable identification (such as a valid passport or military ID) to board a domestic commercial flight or enter a federal building or military installation that requires ID. REAL IDs are now available to Pennsylvanians who want them. Click Here for a guide that will help you decide if you need a REAL ID, and provides information on what documents you will need and steps you can take to get an optional REAL ID.